7/25/22
Advocacy anti-tobacco campaign
2022 Without Tobacco
challenge
Tobacco industry hooks young people
Tobacco kills 10 Ukrainians every hour (over 85,000 deaths every year). This is more than AIDS, road accidents, murders, and suicides combined. Smoking also causes damage to Ukraine's economy, with  annual losses amounting to 3.2% of GDP, or UAH 90 billion, due to early incapacitation of smokers.
In 2019 and 2020, for the first time in 10 years, the prevalence of smoking among young people aged 18--29 increased in Ukraine. Tobacco products are being deliberately targeted at teenagers, with more than 15,000 flavors of e-cigarettes, like bubblegum and candy floss, now on the market. Huge budget online campaigns involving bloggers and influencers provide misleading information on the "safety" of these devices.
Another major problem is the lack of regulation of the market for e-cigarettes and tobacco heating products in Ukraine. This allows them to be sold without excise taxes, permits and certification, even to minors.
solution
Information campaign targeted at MPs in Ukraine
MPs on the Committee on Public Health, Medical Assistance and Medical Insurance prepared and submitted to the Verkhovna Rada the comprehensive anti-tobacco Draft Law #4358. Its main goal is to protect children and young people from aggressive promotion by the tobacco industry. This, predictably, encountered significant opposition from tobacco lobbyists.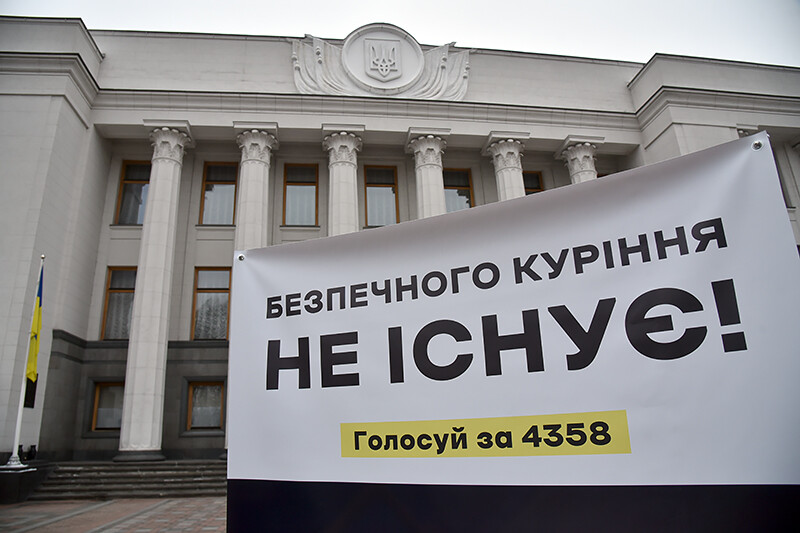 Photo (Vasyl Artyushenko, zn.ua)
Together the LIFE Advocacy Center, we developed an information campaign #2022БезТютюну (2022 Without Tobacco), designed to convince MPs to support the law.
The campaign's branding and messaging were tested in focus groups of Ukrainian parliamentarians. Based on the results, we developed communication products for a nationwide advocacy campaign: a video clip for television and social media, the website https://2022notobacco.in.ua/, posters, animated banners, and infographics.
For the visual identity of the campaign, we chose the recognizable Ukraine NOW brand, as  many Ukrainians associate it with the successes and significant potential of our country. Ukraine will be able to succeed only with healthy citizens, and reducing smoking is crucial to achieving this.
Campaign materials promoted the idea that after the law is passed:
tobacco products will become less attractive and affordable, especially for children and young people;
children born in Ukraine during the Verkhovna Rada's current, 9th convocation will never start smoking.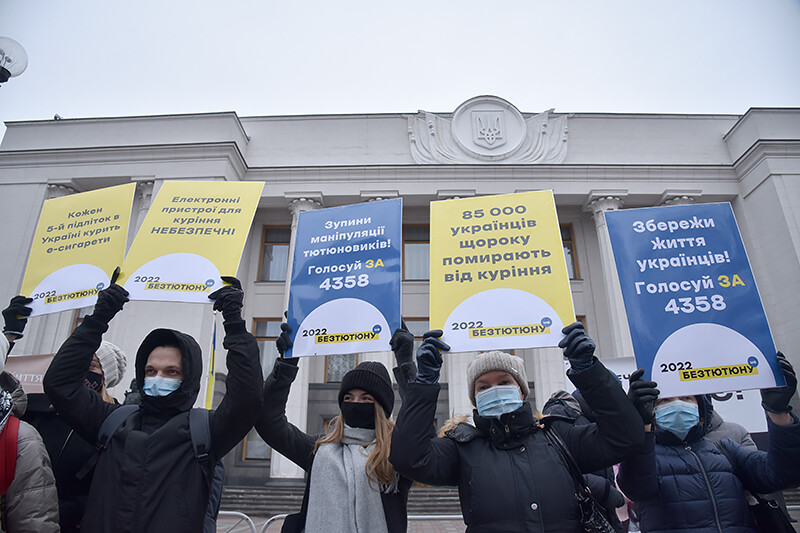 Photo (Vasyl Artyushenko, zn.ua)
outcome
Strengthening anti-tobacco legislation to protect children and youth from smoking
On December 16, 2021, the Verkhovna Rada approved draft law #4358 in the second reading, thus enacting the policies our campaign advocated for. 317 MPs supported the document aimed at protecting children and teenagers from smoking. In effect, it made glo, IQOS, hookahs, and other tobacco products legally equivalent to regular cigarettes.
The new law enacted the following rules:
Smoking of heated tobacco products is prohibited in all public places, just like regular cigarettes (in particular in schools, hospitals, restaurants, and workplaces).
Advertising of electronic smoking devices is banned.
Health warnings must now be published on packages of electronic smoking devices.
Health warnings on regular cigarettes packs will increase from 50% to 65% of the packaging size.
Cigarettes with flavors and aromas are banned.
The law's provisions correspond to the WHO Framework Convention on Tobacco Control and implement the provisions of the Directive 2014/40/EU, the implementation of which has reduced the prevalence of smoking in the EU.
On July 11, 2022, the strengthened anti-tobacco legislation entered into force. This will help save the lives and health of millions of Ukrainians.